We believe that every student deserves to attend a high-quality school.
Since 1999, our 18 middle and high schools across Los Angeles have delivered extraordinary experiences and opportunities to 65,000 middle and high school students, 95% of whom are from persistently lower-income communities. Green Dot California's impact on Los Angeles is significant: 11,000 students currently attend a Green Dot California school.
Green Dot Public Schools California Impact
Our students make nearly two years of growth in literacy in a single school year – faster than anticipated, and double the national growth average.
Our students make nearly 1.5 years of growth in math in a single school year – also far ahead of the national growth average.
More than 90% of parents recommend Green Dot to a friend.
Our college-ready graduation rate: 30 percentage points higher than that of the local district, that's close to double the state's average.
Values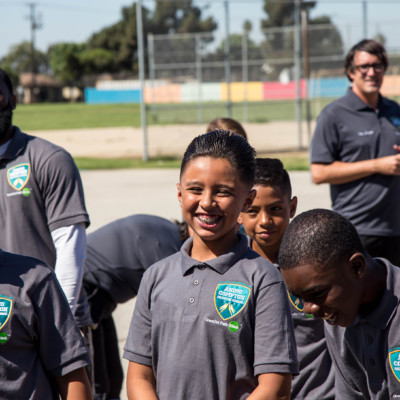 An unwavering belief in all students' potential
Every student has the innate potential to succeed in college, leadership, and life. Every student brings a wealth of experiences to the classroom and is capable of achieving at high levels.
A passion for excellence
We have an ongoing commitment to learn, grow, and strive for excellence in everything we do. Self-reflection and an earnest desire to continually improve are integral components of our organization at every level.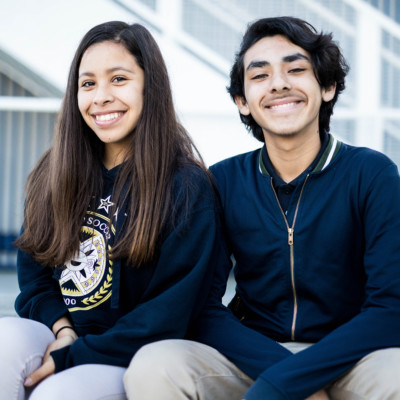 Personal responsibility
Achieving excellence requires each of us to take responsibility for the growth of our students, colleagues, and the organization. We rise together to meet the toughest challenges.  We all play an active part in both removing barriers to student success and empowering our students to overcome those obstacles themselves.
Respect for others in the community
We recognize our students and their families as individuals, amplify their voices, and demonstrate what can be accomplished by working together.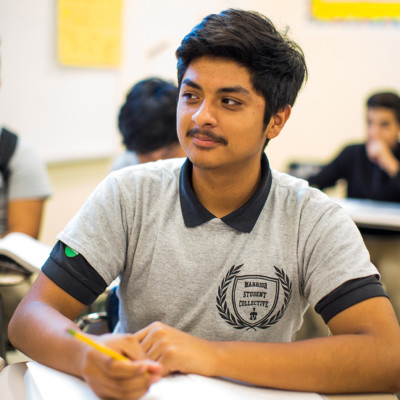 All stakeholders are critical in the education process
We are more powerful together than we are alone: our individual impact is magnified in partnership. Our school leaders regularly engage teachers in decision-making through professional communities of practice. Our school communities nurture the political power of our parents to demand meaningful change in their neighborhoods. And our schools build alliances with community partners to help remove barriers to student learning. Across the organization, Green Dot consistently promotes an environment of collaboration.
Commitment to Diversity, Equity & Inclusion
We have been rooted in diversity, equity and inclusion since our founding in 1999. Our mission to transform public education for all students is premised on the belief that public schools can do better and must provide students of color with rigorous and equitable learning experiences. We continue to fortify our commitment by hiring teachers and school leaders  of color with a variety of backgrounds and experiences. We embed a culturally responsive learning focus throughout our academic and extracurricular programming.
Green Dot California History
We founded the first Green Dot California school in 1999 with a mission to transform public education for students in Los Angeles neighborhoods that had been historically under-served. Our vision was to create small, successful public schools that provided students with outstanding educational opportunities. Our belief then was the same as now: that public schools can do better and must provide students of color and students from low-income families with rigorous and equitable learning experiences.
We opened our first high school with just one 9th grade class of 140 students. Today, our organization has successfully grown to serve 11,000 students at 19 middle and high schools across Los Angeles. Our schools have been honored with Gold Ribbon Awards by the California State Board of Education and Academic Growth Awards by California's CORE Districts. In 2019, Green Dot's Locke High School was named Charter School of the Year in California.
Our Students
Green Dot California provides exceptional educational experiences and opportunities to students in historically underserved communities.
Our schools are open to ALL students. Our demographics reflect the neighborhoods where our schools are located, often more closely than traditional schools.
Who we serve
Demographic
Green Dot California
State of California
Socioeconomically disadvantaged
Students with Disabilities
Our Educators
Heather Johnson
Ánimo Legacy Charter Middle School, Teacher
"For a school like this, it takes emotional investment. You're here because you want to make a difference. And I came here for the very same reason I'm here now: To be able to see change."
LaShawn Allen
Ánimo Inglewood Charter High School, Principal
"I'm always thinking about how we can connect as a village and a learning community. It's an intersection of both academics and culture on our campus. When we uphold both simultaneously, we can create the greatness that we want to see in our kids and in fulfilling our mission of preparing our students for college, leadership, and life."
Vincent Huynh
Ánimo Florence-Firestone Middle School, Teacher
"College really changed my life. Once I got my bachelors degree I went on to get my masters. I was on a roll. I saw the value of what education did for my life and thought, I want to bring that to the community."
Meet the teams that help us serve our kids.