Meet Our Principal
Welcome to Alain LeRoy Locke College Preparatory Academy!
In 2008, Green Dot Public Schools joined with teachers, parents and the community to transform Alain LeRoy Locke High School, one of the most persistently low-achieving schools in California, and split it into several small, safe, personalized learning academies. Today, the Locke Family consists of two Academies, one serving 9th-10th graders and the other serving 11th-12th grades.
In addition to a rigorous college-prep curriculum, Locke students have the opportunity to play on athletics teams or in our world-class band. Students also have access to innovative science and technology programming. We want our students to cultivate skills and qualities that prepare them for success in college and life beyond.
Our students grow into leaders who are ready to achieve. We believe it's up to us to provide the kind of high quality, public education that can get them where they need to go.
Student success isn't a destination --it's a journey that begins as soon as a student walks through the doors of Alain LeRoy Locke College Preparatory Academy. When you join the Locke Family, you become part of a 50+ year tradition of high quality public education. Once a Saint, always a Saint.
Sincerely,
Dr. Peggy Gutierrez
Principal
---
Office Hours: By appointment only.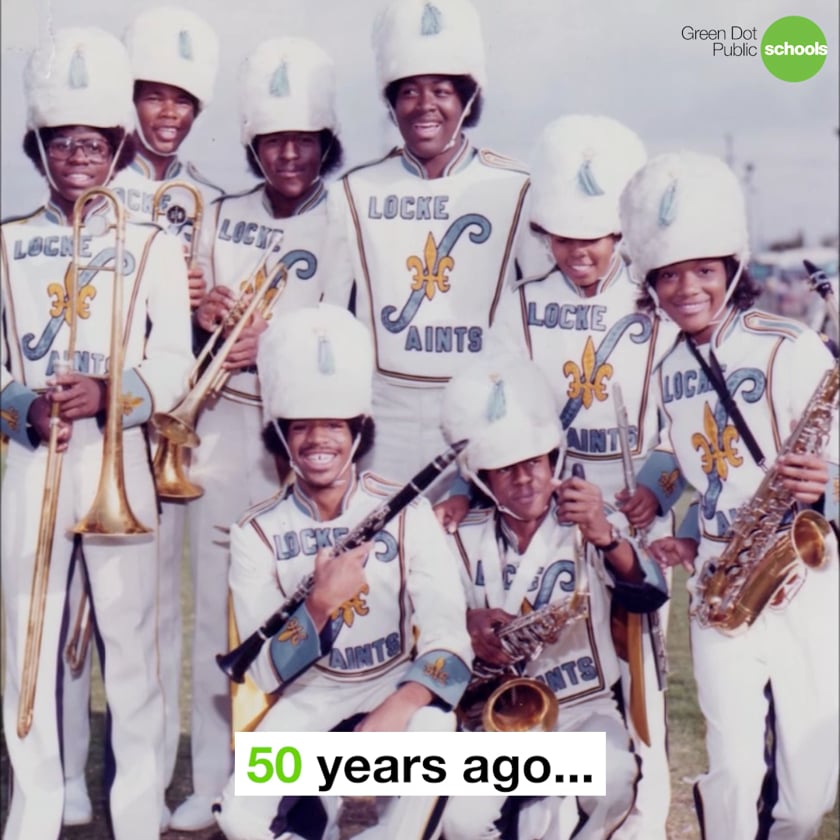 Our Team
We care about our students and community, and we are proud to serve all students.
---
| Last Name | First Name | Position | Location |
| --- | --- | --- | --- |
| Agustin | Hulmaro | Senior Ops & Finance Manager | C6 |
| Allen | Johnta | Campus Security Officer (CSO) | |
| Ansari | Kaleem | Security Coordinator | Off Campus |
| Aragon | Angela | TPP Job Placement Specialist | 302 |
| Araque | Miguel | Campus Security Officer (CSO) | |
| Arguello | Marcelo | Campus Security Officer (CSO) | |
| Avila | Fernando | Algebra I/ Math Foundations Teacher | A15 |
| Bakker | Sarah | Intro to Composition Teacher | H9 |
| Baldovinos | Jessica | EduCare Coordinator | B3 |
| Banuelos | Jesus | TPP Job Placement Specialist/Job Coach | 302 |
| Batt | Joseph | Physics Teacher | A23 |
| Bradshaw | Tamara | Case Manager | Off Campus |
| Burnett | Virendia | Office Manager | 107 |
| Butler | Cordiya | Intro to Composition Teacher | 204 |
| Castro | Maria | TPP Clerk | 302 |
| Cisneros | Adriana | ELD I Teacher | A1 |
| Clark | George | Special Education Aide | |
| Claros | Erica | Algebra 2 Teacher | H6 |
| Contreras- Valdovinos | Luis | Calculus Teacher | A20 |
| Crawford | Heather | Special Education Aide | |
| Cuevas | Nancy | SDP Biology Teacher | 206 |
| Dale | Misha | Student Support Specialist | H8 |
| Davis | Angelica | Special Education Aide | |
| De La Cruz | Monica | TPP Job Placement Specialist/Job Coach | 302 |
| Diaz | Rogelio | PE Teacher | B5 |
| Durham | Charles | Campus Security Officer (CSO) | |
| Edpao | Allan | Asst. Principal 11th &12th Grade Culture | S8 |
| Enriquez | Alejandro | World History Teacher | 123 |
| Esquivel | Felipe | Algebra II Teacher | A21 |
| Estrada | Richard | ELD 2 Literacy Teacher | A3 |
| Fajardo | Monica | Chemistry Teacher | 227 |
| Farmer | Kaiya | Geometry/ Academic Sucess Teacher | 202 |
| Fernandez | Lydia | Counselor ELD 9th-12th | A25A |
| Figueroa | Angel | Counselor 9th Grade & 9th Grade ID | 206A |
| Franco | Maria | School Operations Manager | C6 |
| Gambrell | Andrew | Science Teacher | S7 |
| Garcia | Elmer | PE Teacher | B4 |
| Garcia | Delmar | Math Teacher | 211 |
| Garcia | Jason | SDP English 9 Teacher | 215 |
| Garcia | Michael | Practical Math/ Science Teacher | 105 |
| Gellman | Shaun | SDP US History Teacher | A9 |
| Gibbings | Gordon | Principal of Academics | C7 |
| Ginn | Toni | Asst. Principal Science, CTE & Electives | 201 |
| Gonzales | Andrew | World History Teacher | 117 |
| Gonzalez | Elisabeth | Case Manager | H11 |
| Goodacre | Brittany | Counselor 11th Grade & 11tth Grade ID | S4 |
| Green | Ronald | Asst Principal 10th Grade Culture | 222 |
| Guardado | Lizet | Counselor ELD 9th-12th | A25A |
| Guerrero | Luis | Government | Economics Teacher | A7 |
| Guillen | Mayra | School Operations Associate | C6 |
| Gumbs | Robert | Physical Education Teacher | 103 |
| Guthrie | Brenna | English Teacher | 217 |
| Gutierrez | Peggy | Principal of Culture | 109/S8 |
| Gutierrez | Vincent | Ethnic Studies Teacher | 121 |
| Harbeck | John | Government Teacher | 113 |
| Henrie | Richard | Special Education Aide | |
| Hill | Tim | Music Teacher | HDA2 |
| Holt | Debra | Nurse | 125 |
| Jackson | Asha | Office Assistant | 107 |
| Johnson | Deon | Campus Security Officer (CSO) | |
| Jones | Sybil | Geometry Teacher | 225 |
| Jordan | Ravanisse | Special Education Aide | |
| Jordan | Rakiah | Chemistry Teacher | 231 |
| Joselinn | Solis | Office Assistant | C1 |
| Kaufman | Samantha | Math Teacher | 213 |
| Landix | David | Math Teacher | 207 |
| Lawson | Anthony | US History Teacher | A4 |
| Leonard | Kalem | ELA/ Composition Teacher | H2 |
| Lopez | Jesus | Math Suport/ Algebra II Teacher | A14 |
| Lugo | Rafael | English 12 | College Readiness Teacher | H3 |
| Maciel | Bertha | Spanish Teacher | A10 |
| Maldonado-Barrios | Bagni | Math Teacher | 239 |
| Marroquin | Italo | Adult Transition Teacher | H12 |
| Martinez | Cynthia | School Psychologist, 9th-10th Grade | 237A |
| Martinez | Rachel | College & Career Specialist | B6 |
| Martinez | Daniela | Practical Math/ Science Teacher | 104 |
| Martinez | Efrain | Visual Art Teacher | S6 |
| Martinez-Lopez | Alejandro | Special Education Aide | |
| Masajedian | Simaalsadat | Physics Teacher | A24 |
| Mata- Rodriguez | Joanna | Parent Coordinator | C4 |
| Mc Kinney | Jacoby | Campus Security Officer (CSO) | |
| McDuffie | Larry | Special Education Aide | |
| McKellar | Megan | Asst. Principal Humanties | 110A |
| Mejia- Cabrera | Connie | Asst. Principal Biliteracy | A25A |
| Mitchell | Paulina | English Teacher | 226 |
| Montoya | Edgard | Campus Security Officer (CSO) | |
| Montoya | Steven | Chemistry Teacher | 214 |
| Moore | Ross | Adaptive PE Teacher | 103 |
| Morales | Carlos | Office Manager | C1 |
| Morales | Jessica | Counselor 12th last name K-Z & AT Students | S4 |
| Moreno | Connie | School Psychologist, IDM Program/ AT | 111 |
| Morfin | Yesmin | Spanish Teacher | A11 |
| Moten | D'Andre | Facilities | |
| Munguia | Maria | Community School Director | B1 |
| Navarro | Cruz | Student Support Specialist | H8 |
| Nevarez | Jasmine | English 9/ ELD Literacy Intervention Teacher | 205 |
| Nguyen | Ngoc | Statistics Teacher | A22 |
| Nhuc | Kim | DIS Counselor | 110B |
| O'Connor | Brian | Music Teacher | HDA1 |
| Olivares | Ivan | Biology Teacher | 208 |
| Orloff | Devora | English Teacher | 237 |
| Orr | Vernita | Campus Security Officer (CSO) | |
| Perez | Brenda | Adult Transition Teacher | 106 |
| Pio | Daniel | Math Foundations Teacher | 223 |
| Ramirez | Cesar | Office Manager | C4 |
| Ramirez | Belen | Asst. Principal Math & C.R. | 101A |
| Ramos | Ricardo | Science Teacher | 210 |
| Reyes | Itzel | Math Teacher | A19 |
| Robinson | Karen | Community Engagment Liason | 107 |
| Rodriguez | Mayra | ELD I/ Literacy Teacher | A2 |
| Rogers | Tiffany | English 11/ Academic Success Teacher | H5 |
| Romero-Ramos | Stephen | Ethnic Studies 11 Teacher | A8 |
| Roowala | Zena | Clinical Services Manager | H11 |
| Saenz | Francisco | English 9/ ELD Literacy Intervention Teacher | 219 |
| Salas | Jose | Math Teacher | 209 |
| Scruggs | Sam | Gov | Econ Teacher | A5 |
| Shankar | Vish | Computer Science Teacher | S5 |
| Shrewsberry | Alexander | Asst. Principal 9th Grade Culture | 201 |
| Sichmeller | Daniel | English 9 Teacher | H7 |
| Silvera | Tristan | Student Support Specialist | 221 |
| Singer | Constantine | Focus -Credit Recovery Teacher | S3 |
| Smith | Leah | TPP Job Placement Specialist | 302 |
| Smith | Warren | SpEd Teacher | 235 |
| Strong | Eric | Focus -Credit Recovery Teacher | S3 |
| Sutter | Elliott | Math Teacher | 216 |
| Sutton | Marquitta | English / Expository Reading & Writing Teacher | H4 |
| Terrell | Zohnice | Student Support Specialist | 203 |
| Tovar | Oscar | Covid Coordinator | 108 |
| Turner | Nasia | African American Achievement Specialist | 241 |
| Turner | Jerry | Special Education Aide | |
| Ulloa | Jaime | Practical English/ Social Science Teacher | 101 |
| Vance | Justin | Special Education Aide | |
| Vega | Hector | US History Teacher | A6 |
| Velazquez | Saul | English 9/ Literacy Intervention Teacher | H1 |
| Ventura | Raquel | TPP Special Education Transition Coordinator | 302 |
| Villafana | Yolanda | School Psychologist, 11-12th Grade | A25 |
| Villanueva | Steve | Counselor 12th last name A-J &12th ID | S4 |
| Volz | Chloe | English 10 Teacher | 233 |
| Wada | Ann Marisa | Visual Art Teacher | S1 |
| Wan | Chris | Math Foundations Teacher | 224 |
| Winston | Andrea | Asst. Principal SPED | 106A |
| Wolfson | Phil | Special Education Program Administrator | 111 |
| Wortham | Stephanie | Counselor 10th Grade & 10th Grade ID | 218 |
| Wyche | Kia | Campus Security Officer (CSO) | |